CUAK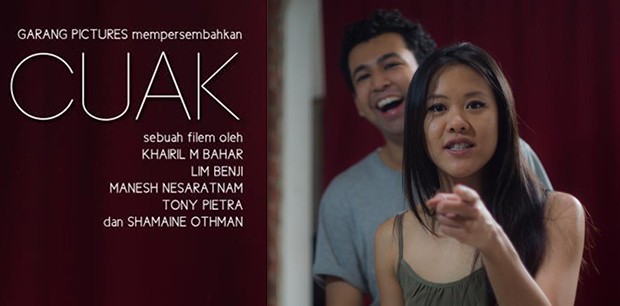 Published on February 22nd, 2013 | by Garang
0
CUAK : Coming Soon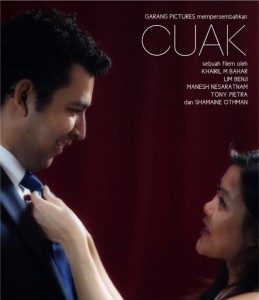 DIRECTORS:
Khairil M Bahar, Lim Benji, Manesh Nesaratnam, Tony Pietra and Shamaine Othman.
CAST:
Ghafir Akbar, Dawn Cheong, Abdul Qahar Aqilah, Gavin Yap, Iedil Putra, Ash Nair, Ani Juliana Ibrahim, Patrick Teoh, Bernie Chan, Diong Chae Lian, Kuah Jen Han, Tony Eusoff, Craig Fong and Corinne Adrienne.
SYNOPSIS:
Adam is about to get married to Brenda. It wasn't easy but it's really happening now. His mind should be made up. He should be sure. But as he makes his way to his bride, he starts having second thoughts. Will they be the same after marriage or will they change? Does he still love his ex? How about the crazy in-laws? Will his own crazy elder step-brother ever approve of Brenda? And finally, how will Brenda handle converting to Islam? Will doubt prevail or will love conquer all?
Producer's Statement:
CUAK is a Garang (i)ndie Pictures baby. The process of delivering this baby has been an exciting one. Bearing witness to such brilliant filmmakers coming together to do what they love, anyone would believe that magic exists. It is a solid story showcasing amazing, talented Malaysian filmmakers, actors and actresses but the icing on the cake is that this will be a story any Malaysian can watch and say: this is the Malaysia that I know.
Garang Pictures is hell bent on producing quality content for Malaysians and the world to watch. Beyond that, we aim to highlight and develop more of creative talent in Malaysia. In this sense, CUAK is more than just a movie about a guy getting married and cold feet. It is also a statement of the talent that is prevalent in this country.
CUAK, which roughly translates to 'cold feet', is a film about a man getting married and the events leading up to the big day. Adam, our protagonist, is struggling with doubt and fear. These are compounded by his friends' damning opinions of marriage, intimidating in-laws, unresolved feelings for his ex and his big brother's suspicions of his fiancée's intentions.
As Adam deals with each of his issues in turn, the film's five directors depict his internal and external struggle to bersanding through an appropriate genre. Buddy film, comedy, film noir, drama and found footage, CUAK is really five interconnected stories rolled into one movie.
A story of love and marriage, CUAK is a Malaysian movie with themes that resonate with a universal audience regardless of race or religion.
Stay tuned for news and updates.